Progress on my TTL CPU design
Sun 24 January 2021
Tagged: cpu, electronics
I want to make a CPU out of physical 74xx TTL chips. I have now implemented most of the parts using a subset of Verilog that maps directly to TTL chips, and I wanted to write a bit about the design.
Before we start, I'll warn you now: this is another of my long, rambling, brain-dump-type posts. Don't read it if you don't want to.
If you want to look at any of the code, it's all in my ttl-cpu github project.
Choosing a word size
I found that a lot of the design decisions are inter-dependent, which makes starting from a blank canvas particularly difficult. Choosing the word size is one of the decisions that both affects, and can be affected by, the implementation of everything else.
There were really 2 things I wanted to know to choose a word size:
how wide do I want addresses to be?
do I want addresses to fit in a single register, or do I want to concatenate registers to form addresses?
I kind of wanted to use an interesting non-multiple-of-8 word size, just because one doesn't get many chances to use such an oddball system, and building your own CPU is a great opportunity to do it. Unfortunately, it isn't really a sensible choice with TTL chips. The 74377 register stores 8 bits. The 74244 buffer buffers 8 bits. If you use a word size that doesn't divide by 8 then you end up just leaving unused silicon lying around for no good reason. If the hardware is going on the board anyway, it might as well get used.
So then the sensible choices for address width are 8 bits, 16 bits, 24 bits, and 32 bits. Clearly 8 bits is not enough, and 32 bits is way too large. 24 bits might be fine, but I don't really see myself wanting 16 megabytes of address space, so I picked 16 bits for the address size.
And then we have to decide whether we're making an 8-bit computer that has to make addresses by sticking 2 registers together, or a 16-bit computer that doesn't. If we need to support 16-bit addresses then we need at least the address bus to be 16 bits wide, and we need enough register space overall to support a 16-bit address and an 8-bit value. It doesn't seem much of a stretch to just say both registers will support a 16-bit value, and then we save some complexity in the control logic at the cost of having 2 16-bit registers instead of just 1, and having a 16-bit wide ALU.
There are ways to get around making the ALU match the width of the registers, but I'm not sure it's worth it. The Z80 uses a 4-bit ALU, and 8-bit operations take 2 cycles (one for the low nybble and one for the high nybble). In the limit case the ALU only really needs to operate on 1 bit at a time, with wider operations performed serially. I was recently informed that the PDP-8/S worked this way, although it was apparently extremely slow and not a commercial success.
Block diagram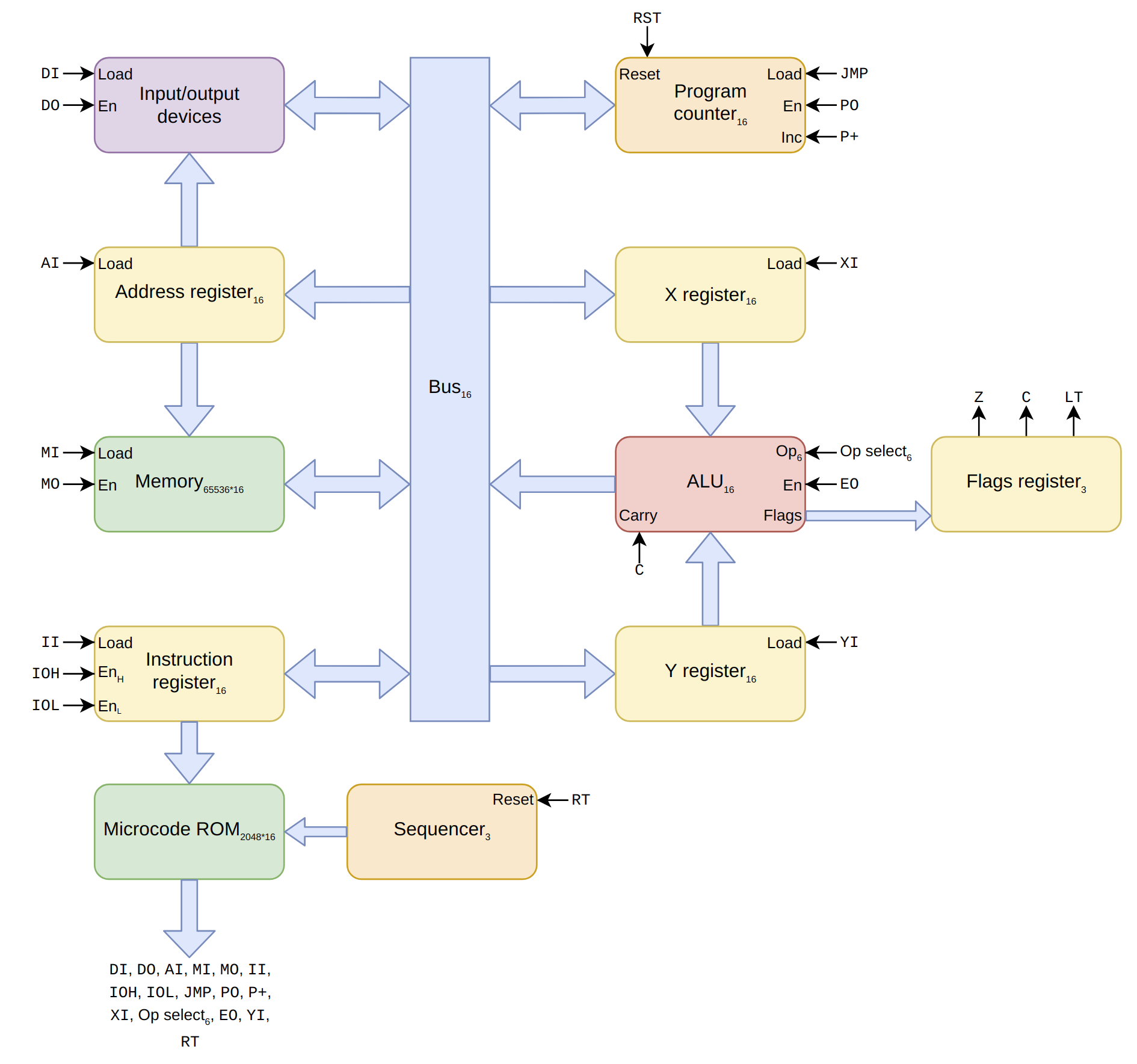 The diagram is roughly colour-coded to indicate parts that have similar functions. The small subscript numbers show how many bits a register holds, or whatever else makes sense in context.
The single-width arrows carry a single bit of information. The CPU is controlled by the control bits that come out of the microcode ROM. These are then plugged into the labels. For example, one of the control bits is AI, which is connected to the "Load" signal of the address register. If a microinstruction enables AI, then at the next rising edge of the clock, the address register takes on the contents of the bus.
The one thing that is kind of fudged in the diagram is that JMP just magically appears as a control signal from the microcode, but in reality there would be some logic to combine the jump flags output by the microcode with the flags from the flags register. I just haven't yet worked out where that logic is going to live.
Also note that while the instruction register is 16 bits wide, only 8 bits are used for the opcode, so only 8 are used to lookup the address in the microcode ROM, which (combined with 3 bits from the sequencer) is why the microcode ROM only needs 2048 entries.
Chip counts
Here is my best guess for the number of chips I'll need for the CPU:
| Module | Chips |
| --- | --- |
| ALU | 39 |
| Program counter | 6 |
| Instruction register | 6 |
| Control bits decoding | 4 |
| X register | 2 |
| Y register | 2 |
| Address register | 2 |
| Sequencer | 2 |
| Microcode ROM | 2 |
| Flags register | 1 |
| Total | 66 |